In working with small to medium businesses in the B2B space, we often hear things like 'we know we should be more active on LinkedIN and Facebook, we're not great at that'. We translate this to 'we know we need to make more noise, we simply don't know how, nor have the resources to do so'.
What companies like this should consider is their Content Marketing Strategy. Another strategy?  That sounds laborious, challenging and possibly a little bit painful. So, let's break it down a little…
Firstly, what exactly is Content Marketing? According to the Content Marketing Institute (and they must be the authority, right?) " Content marketing is a marketing technique of creating and distributing valuable, relevant and consistent content to attract and acquire a clearly defined audience with the objective of driving profitable customer action."
Content marketing is a way to share information and engage with existing and potential customers, usually in the form of blog posts, videos, or social media posts. Content shared by businesses are meant to build trust and credibility while strengthening brand recognition.
If you've dabbled in blog posts, social media posts or even created a little bit of video, you're already a content marketer and may have a bank of content that can be reused. By implementing a solid strategy aligned to measurable goals and executed through an editorial calendar, you'll be on your way to becoming a content marketing guru. Hubspot have a really useful calendar available to download here
.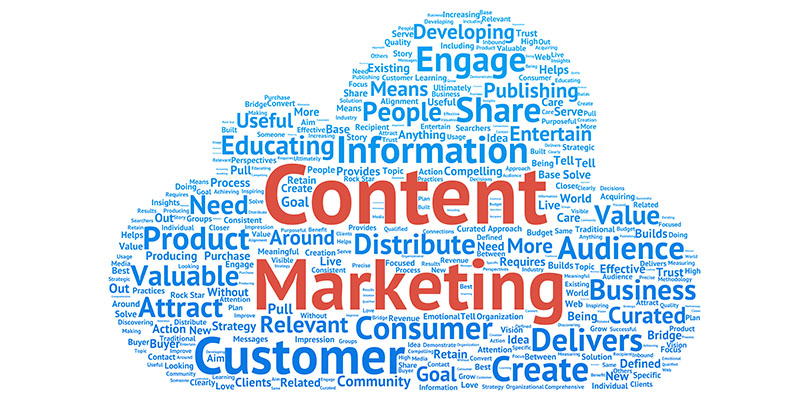 How to get Started
There are so many things you can do with content marketing, but none of them will be effective unless you've thought about who you're creating content for. Remember our 'valuable' and 'relevant' adjectives from the definition! You must think about the Buyer, who is your customer? What are their demographics? What are their buying motivations or concerns?  When you understand the customer and their needs you are in a position to marry the value you offer to those specific needs. Your messaging should centre around this.
The next thing you need to do is think about what you want your content marketing to achieve? What are your measurable goals? Creating brand awareness or customer dialogue or converting to purchase are 3 very different objectives and will all require different strategies. You may need to do all 3, and you can, you just need to think about how!
When we've arrived at what who we are speaking to and what we want to achieve, we now need to move to action.
The one thing you absolutely need to have, and this sounds so obvious, is an optimised website. I see so many clients who developed a website eons ago and never updated. Layouts are old fashioned, navigation is difficult and legibility is nigh on impossible on mobile devices. If that's you, you need to take action, immediately! If you invest in one area of content marketing, let this be it. Your website is your window to the world and impressions are made within that first second of a user landing. Make that impression lasting.
Some of the other content activities we can engage in are as follows:
Video content development- for motivating video statistics read this Video generates 1200% more shares? Enough said. Embed video in your website (helps with SEO), share it on the appropriate social media platforms, create your own YouTube or Vimeo channel. Get third parties to link to your video
Blog Posts-with a little bit of writing skill or engaging the resources of a content editor or copywriter, blog posts are a possibility. There is always a story to be told whether it's a new product release, new customer acquired, successful project completed, perspectives of a new employee or changes in your marketplace, there's a blog post in it. Just remember to keep focused on the 'valuable' and 'relevant' elements of content marketing
Email marketing, as above and the beauty of this is you can trial different messages to different segments and monitor the response.
Podcasts- US research shows that 44% of the population have listened to a podcast in 2018. They are not for everyone, but they are a way of confidently positioning you, or your brand as an expert in your field and potentially, as a facilitator of learning
Social Media- your audience should determine the platforms you use. In B2B, LinkedIN and Twitter are always most popular. If yours is a consumer market, Facebook and Instagram may be more relevant. Avoid the temptation to overly sell on social media, focus on engagement instead
Ebooks and other downloadable resources
But remember, the effort means nothing if it's not delivering results… Metrics have to be considered. What were you working to achieve through your content strategy? It may have been increased awareness or engagement, though ultimately, we are seeking revenue growth. The time to realise this may be slow, so ensure you are generating insights based on data analytics and in time consider the contribution to pipeline.
A quick reminder:
Audit your existing content, you'll be amazed at what you already have
Understand your customer and their content needs relating to your offering, ask a select few about their expectations of you
Optimise your website, if you do nothing else, do this
Generate relevant and valuable content, you'll be surprised about how quickly a team can generate ideas
Push that content out through the relevant channels, and make a plan to do so regularly
Measure the results!
If you're struggling to get your content marketing strategy off the page and into action, we can help. Contact us on scale@momentumadvisory.ie for details.